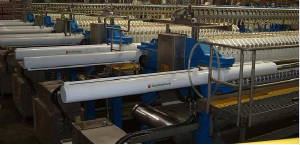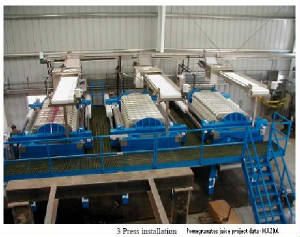 Our equipment package is from the USA and India

Capacities range from 500 to over 1,200 U.S. gallons (1,892 - 4,572 liters) per hour. Unlike other equipment manufacturers in this discipline, our system needs no settling tanks, press-aids, or enzyme pre-treatments.


Comparable presses suffer from either an inferior yield, high solids content, excessive labor, or an expensive price tag.


Rugged construction allows our system to withstand the abuses of industrial activity, around-the-clock operation, while still providing a high quality, untainted end product.

Ideal applications include pomegranates, apples, non-citrus fruit and vegetable juices, herbal and plant extracts.



Easy to Clean Filter bags are easily removable for thorough cleaning in a washing machine.

The press itself is cleaned by a simple wash-down procedure.

Compact Size. Takes up less space than other machines with equivalent output. Versatile


Salient Features:
High Separation Ratio

High solid/liquid separation ratio extracts the maximum amount of filtrate and produces the driest cakes possible.

Automatic Operation Filling, pressing, opening, and discharging cycles are operated by simple push-button controls.

Low Insoluble Solids : Approximately 0.5% solids. (THIS GUARANTEES ULTRA CLEAR JUICE)

Comparable presses average 3% solids or more.

Filtration Not Needed , Because of the low insoluble solids content, secondary filtration is not needed for producing attractive products. In applications where filtration is preferred, some product will be lost during filtration.



ARILS

Pomegranate arils are separated in a specialized plant and automatically packaged in clear containers.