At MAZDA, we are into designing and setting up complete food, fruits and vegetables processing plants.

French fries plants, Tomato paste plants, Fruits and Vegetables processing plants are some of our specialities. Project management is a methodology to manage start-up projects. Shortlisting equipment is only half the job.

Consult us !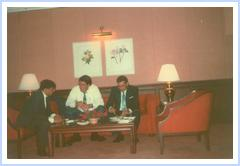 Mr. K. Sujan, CEO, left,--- - with clients
OSR website at www.mazmach.com tells you all.
Food processing, as detailed at www.mazmach.com includes fruits, vegetables, cereals and grains processing, sea food processing, canning systems too. We offer packaging lines, environment control equipment and pathogen elimination equipment. Sea Food equipment is vast and varied. Our tie ups with American and European organizations makes this possible.

Turnkey installation services are offered in select countries in Asia and Africa.

We work closely with some world leaders. Bulk of our equipment is from India. Some specialized systems are supplied by our associates in Europe and the USA.

OUR RANGE OF PEELING AND CUTTING EQUIPMENT FOR FRUITS AND VEGETABLES AUGMENTS FROZEN FOOD PROJECTS REQUISITES.

IQF systems for a wide range of food products are often included in our food processing plants.

Our associated company is a leader in EDIBLE OIL PLANTS, REFINERIES AND SOLVENT EXTRACTION PLANTS with a sixty five year presence in the business.

Project incubation services offered by our PROJECT PLANNING DIVISION cover the full gamut of know how, plant design and general engineering services.

Custard apple pulp plants produce clear flaky seedless pulp in an innovative automated process plant recently developed.

Please navigate to the web page PROJECTS to learn more.
As a projects management group, we offer design and installation of plants to process potatoes to produce FRESH and PRE-FRIED FROZEN FRENCH FRIES, CHIPS, WHOLE FROZEN POTATOES and other potato products. Equipment package from Europe and India. Our collaborators in Europe are amongst world leaders and specialist companies in the food processing equipment sector.
Frozen, partially fried root vegetable products that only require a short period of further cooking before serving are widely available and used in both the food service markets and consumer markets. Such products are generally referred to as par fried products. Par fried root vegetable products are typically made from root vegetables such as potatoes, yams, carrots, beets, yucca and sweet potato. The most common par fried root vegetable products are made from potatoes (par fried potato products). Due to the large market for par fried products, there is a constant demand for better products and improved methods for producing such products.
Over the last 25 years, our activity has spilled over to related disciplines, involving us with projects related to food and agro industry.
Backward integration has resulted in our being entrusted with projects related to polymers products, food produce based pharmaceuticals such as glucose, dextrose monohydrate, sterile solutions, herbal extractions and more such.
INDUSTRIAL PROJECTS INCLUDE:
PPR PIPES AND FITTINGS PLANTS
STARCH, DEXTROSE MONOHYDRATE, LIQUID GLUCOSE PLANTS
BIO DIESEL PLANTS
CORROSION SUBSTITUTE POLYMER PRODUCTS
SELECT FMCG PROJECTS
OUR PROJECT PLANNING DIVISION PROVIDES A PACKAGE OF CONTINUAL ON-GOING ADVISORY SERVICES ON PROCESS OPTIMISATION, EXPANSION AND DIVERSIFICATION PLANS. AN ANNUAL CONTRACT MAY BE NEGOTIATED.